I have been deeply involved in all aspects of the PERE's platform. From user interview and test, over ideas of new functions, to implementations and iterations of an ever evolving application.
It has been a long list from test to features. When I get the time I will go more in depth.
PERE provides a smarter way for hotels around the world to work with and profit from restaurant referrals.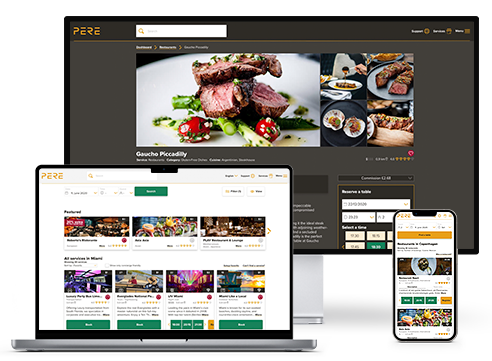 User interview
User test
User analysis
Full ui overhall
Full UX overhall
Full icon collection
Roll out of new design
Mobil friendly
Ipad friendly
UX/UI for groups
Automated signup
Onboarding for new users
Onboarding for new services/hotels
Request new service
Public booking design
Public booking self setup
Setting up own price plans for services
Dark mode / light mode
POS The Dilly
POS Dubai exhibition
New website
Communication on various platforms
News mail
Automated news mails (design and principles)
Internal communication to the users
New service pages
Selv governing of service page
Invoices – design, flow and extra info
Booking system
Event and voucher system
Administrator selfservice
Super admin revamped for faster onboarding of new support employees
Rating system (rate, respond, view…)
And the some…